IGI class of 2003 Graduate Anita Bhandari has won several prestigious international jewelry design awards in collaboration with her friend, colleague and fellow Canadian Anita Agrawal, a part-time professor at Centennial College. Bhandari's company Aarkish Diamonds specializes in high-end custom jewelry, while Agrawal's Jewels 4 Ever specializes in affordable fine colored gemstone jewelry. This is their first collaboration.
Three Design Awards
The duo was honored at INSTORE magazine's annual Design Contest winning three awards for two pieces: They were presented with the Retailer's Choice Award for "Colored Stone Jewelry Over $5,000." They also received the Retailer's Choice Award and Second Place by Judges' selection for "Best Earring Over $5,000."
The INSTORE Design Awards incorporate a blind-judging component, where a panel of retailers and influencers determine 1st, 2nd and 3rd place by selection. They also have a separate online component to determine the "Retailer's Choice" winner for each category, permitting numerous retailers from across North America to see all of the top designs and select a winner.
Spring Goddess Earrings – Retailer's Choice and Second Place
The Spring Goddess earrings feature 14K green gold with 84 rare color graduating alexandrite stones (approx. 7.50 TCW), 2 large natural pear shaped green Afghan aquamarines (30.96 TCW), and several natural diamonds. Evaluated at $40,000.
Blue Flame Pendant – Retailer's Choice Award
The Blue Flame Pendant features 14K white and yellow gold with over 18 carats of natural sapphires, one center natural untreated sapphire (2.52 TCW) and natural yellow fancy diamonds (0.73 TCW). Evaluated at $22,000
Friends and Partners
Both second-generation jewelers and daughters of immigrant parents, Agrawal and Bhandari have a combined experience of 72 years in the jewelry industry. They have known of each other for over 20 years, but this was their first collaboration. Their friendship and partnership were expedited by the global pandemic, when Bhandari, a board member of Fashion Group International Toronto (FGI Toronto), asked Agrawal to participate in an Instagram live session to discuss jewelry trends.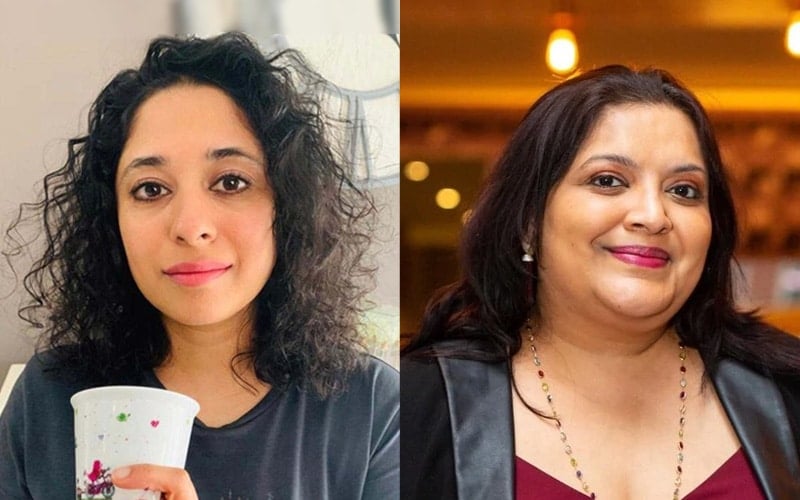 Comments from the Winners
"We were up against legendary designers and multi-million-dollar businesses in this competition, such as Gabriel & Co, and Erica Courtney. So, there were a lot of very strong submissions." – Bhandari
"It's an honor to be recognized as a small business owner and Canadian manufacturer. I've worked in this industry for so long, and both of us have made 1000's of pieces, but it feels far more significant an achievement when other industry retailers select your designs… This pandemic really highlighted the necessity of small businesses to come together and collaborate." – Agrawal
About Anita Bhandari
An expert with over 30 years of experience in the jewelry industry, Bhandari comes from a long line of diamantaires and spent much of her formative years in the Antwerp diamond market. With her vast experience and knowledge of the trade, she made her way into the Toronto Diamond district where she founded Aarkish Diamonds Inc. in 2000. Bhandari is obsessed with fashion, jewelry and diamonds and celebrates this as a board member of the Fashion Group International – Toronto chapter. Bhandari holds a BBA from the European University in Barcelona. She is also an Hoge Raad Voor Diamant [HRD – Diamond High Council] Gemmologist and graduate of the International Gemological Institute.
About Anita Agrawal
Agrawal's company Best Bargains, has been in business since 1991 and this year celebrates 30 years. Her brand "Jewels 4 Ever" was founded in 2012 and exclusively focuses on the business' low-cost Canadian-made gemstone jewelry line. Agrawal's work has been featured in numerous national and international magazines and in 2019, she was invited to be a keynote speaker to the Bangkok International Gem and Jewelry Fair in Thailand. She currently hosts a YouTube video series called "CJ Designer's Talk" in collaboration with Canadian Jeweller Magazine, showcasing talented jewelers from around the world. The show has amassed over 10,000 views in just 3 months. She is also a part-time professor at the School of Business at Centennial College.
About IGI
The International Gemological Institute (IGI) has 20 laboratories in all major diamond and jewelry centers around the world, as well as 14 education facilities. For 45 years, IGI has provided the fine jewelry community and consumers with a broad range of services including independent diamond grading reports, colored stone reports, identification and appraisal reports, diamond authentication and attestation of origin, laser inscription services, as well as the issuing of the traditional jewelry identification report. Regardless of location or marketplace, an authentic IGI Laboratory Report is the common language of trust and confidence in the gemological world.