Jewelry CAD Course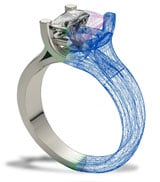 With advanced CAD / CAM technology developed for the jewelry industry, the sky is the limit for boosting your creativity. IGI's Professional Jewelry Designer (CAD) course teaches you to beautify your designs and creations using the wide range of professional tools found in Rhino 4.0 software.
Overview
Basic tools and commands
Draw and edit curves
Create surfaces of basic jewels
Shade / render the designs
Gold calculation
Highlights
From 2D freehand jewelry design to 3D format
Conversion of CAD drawings from Rhino to prototyping units
Estimation of gold weight for the designs
100% Lab sessions
Career Options
The IGI graduates who have pursued their careers in the gem and jewelry industry mostly became: jewelry designer, freelance, jeweler, jewelry manufacturer, entrepreneur, jewelry retailer, etc.
See also: Jewelry Design Course (Manual)
FAQs : Jewelry Design CAD Course
Ans. Computer Aided Design (CAD) is a jewelry designing technique that requires the designer to use either the Rhino or Matrix software suites to create a 3-dimensional jewelry design. During the Jewelry Design CAD Course, you will learn the intricacies of software-based designing and become acquainted with the various tools and commands that will help you perfect your skills.
Ans. We recommend 12th pass students; however, anyone can enroll in the program.
Ans. The course runs for 2 months.
Ans. We use Rhinoceros and Matrix software for the Jewelry Design CAD Course.
Ans. A certified CAD jewelry designer can opt for a full-time job with any jewelry company, or may choose to join the industry as a freelancer.
Ans. Yes. This process will be explained in detail during the course. You will also be taken to a jewelry manufacturing unit for a visit. This will provide you with a practical experience.
Ans. We will provide assistance to our students via our well-established industry networks. While we may not be directly involved in the recruitment or employment process, we will try and ensure that our students are well placed.