An exceptional 15.10 carat fancy vivid blue diamond is making a world tour, with a pre-sale estimate of $48 million. Unearthed in South Africa in April, 2021, the polished gemstone will be the largest vivid blue diamond ever to appear at auction. Currently on display at Sotheby's gallery in New York, it will be seen in London, Dubai, Singapore, Shanghai, Beijing, Shenzhen and Taipei before arriving to Hong Kong for auction on April 27.
Everybody Loves The Blues
Blue is among the rarest color seen in natural diamonds, caused by trace amounts of boron which were present in the earth where the diamond formed. In addition to its topmost color saturation, the "DeBeers' Cullinan Blue," named for its current owner and the mine where it was discovered, has internally flawless clarity, contributing to it's estimated value of more than $3,000,000 per carat.
'Work Of Art'
According to Frank Everett, Sales Director at Sotheby's New York Luxury Division:
Sometimes we do compare these pieces to rare works of art, like a Botticelli or a Picasso. But think about the number of Picassos that may change hands in a given season, as opposed to something like this that comes along once in a decade, or once a lifetime.
The step cut style uses long flat, flat facets which can result in a "hall of mirrors" effect, when well executed. Unlike the brilliant cutting style, which uses kite-shaped facets to promote external sparkle and contrast, step cutting results in great transparency and visibility within the diamond. While the style is frequently chosen for flawless diamonds, to emphasize their cleanness, it's only suitable for fancy colored crystals with consistent, even saturation. The diamond's fancy vivid grade, as a step cut, speaks to the strength of its intrinsic body color.
This is one of those rare opportunities where man actually improved upon something that nature created, making it very special and really, in my opinion, a work of art.
Diamond In The Rough
The IGI GemBlog covered the discovery and record-breaking sale of the Cullinan Blue's rough crystal last year. The 39.34 carat blue Type IIb diamond was purchased from Petra by a DeBeers' and Diacore partnership for $40,180,180, which totaled over $1 million per carat.
Petra CEO Richard Duffy commented:
This sets a new milestone for Petra in achieving its highest price for a single stone and follows the sale of the 299 carat Type IIa white diamond in March this year and the five blue diamonds comprising the Letlapa Tala Collection in November 2020.
You can read about those five "blues brothers" in previous GemBlog coverage: Petra Diamonds Recovers 5 Blue Diamonds Totaling 85 carats.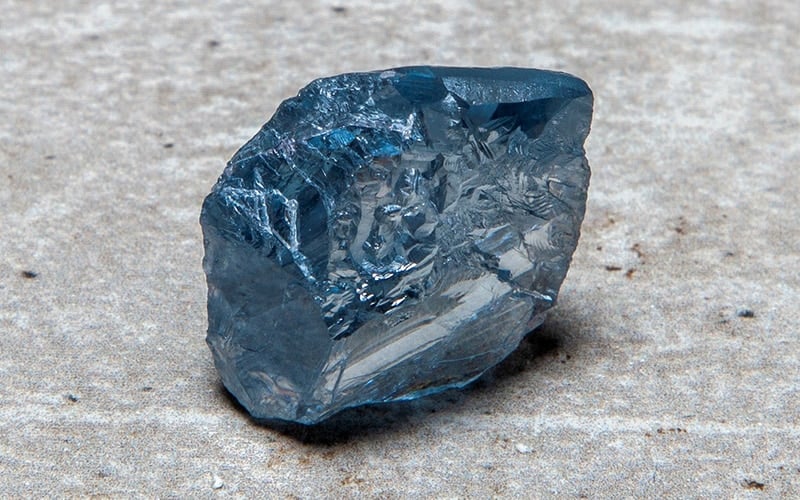 The Cullinan Mine
In 1905 the 3106.75 carat Cullinan diamond, the largest ever found, was unearthed at the Premiere mine in South Africa. On it's 100th anniversary in 2003 the mine was renamed The Cullinan Diamond Mine.