Australia's retired Argyle mine, most famous for fancy pink diamonds, is also renowned for diamond deposits ensconced in lamproite, rather than kimberlite. Did you know Argyle was not the only lamproite discovery, nor the first place diamonds were discovered in Oz?
Enter Ellendale
Australia's first diamonds were discovered in 1969, in the Ellendale area near the Lennard river. These alluvial discoveries led to systematic diamond exploration of the region. The Ellendale diamond field was the first of three hard rock diamond deposits found in Australia, and made history in 1976 when geologists discovered a new host-rock for diamonds, olivine lamproite.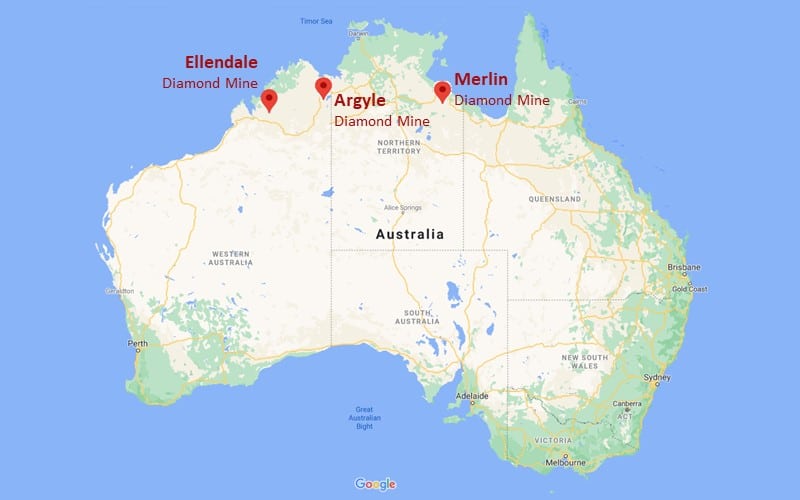 2002-2015
Mining commenced in earnest in 2002 at Ellendale, nearly two decades after Argyle claimed fame as Austalia's primary source. Her open pit output came primarily from the mining of two lamproite pipes – Ellendale 4 (E4) and Ellendale 9 (E9). The yellow color in Ellendale diamonds are produced by their nitrogen content, where nitrogen atoms selectively absorb light in the blue region of the visible spectrum resulting in selective transmission of yellow to the human eye.
Open-Close
In her prime, Ellendale's provided nearly 50% of the world's supply of fancy yellow diamonds. At one point the mine's then-operator, Kimberley Diamond Company (KDC), held an exclusive offtake agreement with Tiffany & Company. This prime was short-lived, however. Ellendale 4 was closed in 2009 and the high Australian dollar, combined with dwindling reserves, ultimately saw the mine cease operations in 2015 when KDC was liquidated. This involved relinquishing their lease and environmental liabilities, reportedly $40 million, back to the government of Western Australia.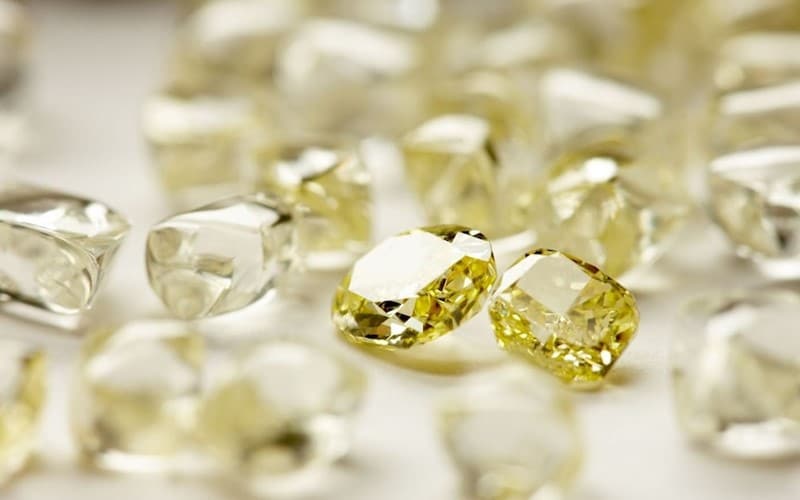 Revival
After a period of dormancy the West Australian government undertook a $230,000 rehabilitation process to prepare the Ellendale site for a new operator. Now a number of entities are joining forces to revive Australia's diamond sparkle. Gibb River Diamonds (GRD) and India Bore Diamond Holdings (IBDH) are both engaged at Ellendale. Outside the two open pits, the diamond field covers an area 25 miles (40 km) long by 6 miles (10 km) wide and is estimated to contain at least 1.3 million carat of gem-quality diamonds, including fancy yellows.
Pretty in Purple
IBDH recently unearthed fancy yellow diamonds at the Ellendale field which display rare purple fluorescence. Those diamonds were found using electric aquifer detection which discovered paleochannels leading away from the weathered lamproites, ultimately to an ancient sea where concentrations built up over an estimated 22 millions years.
According to IDBH Director Patrick Stringer:
So far, we know that these special diamonds are contained within a specific area known as the L-Channel. We have a very detailed understanding of the L-Channel deposit, but we never expected to discover that brilliant fancy yellow diamonds would fluoresce purple.
Merlin's Magic
There is also potential for magic to happen at Australia's third hard rock deposit. In May, 2021, Lucapa Diamond reached an exploration and mining agreement with Merlin Operations Pty, adding this intriguing Australian resource to their existing producing assets in Lesotho and Angola.
The Merlin diamond mine, located in Australia's Northern Territory, produced about 500,000 carats of high quality diamonds when it operated from 2000-2003. It's output yielded an unusually high proportion of gem-quality diamonds, including a 104 carat white Type IIa treasure, the largest diamond crystal ever mined in Oz.
Here's to magic happening at both Merlin and Ellendale.