IGI has analyzed and graded a 35.00 carat laboratory grown diamond measuring 23.37 x 15.24 x 9.06 millimeters, the largest to date. Produced by Maitri Lab Grown Diamonds (Maitri), the new record holder was grown using the Chemical Vapor Deposition (CVD) process. The Type IIa rough crystal was fashioned into an emerald cut which displays H color and SI1 clarity. Maitri will showcase the stone at JCK Las Vegas from June 2-5 at booth #8123.
According to Maitri:
We are thrilled to unveil this remarkable 35 carat lab grown diamond, an achievement which follows extensive research and development efforts, reflecting our dedication to excellence. Having this milestone certified by IGI strengthens its authenticity and pedigree, reinforcing our position of leadership in the industry and showcasing the immense potential of lab grown diamonds.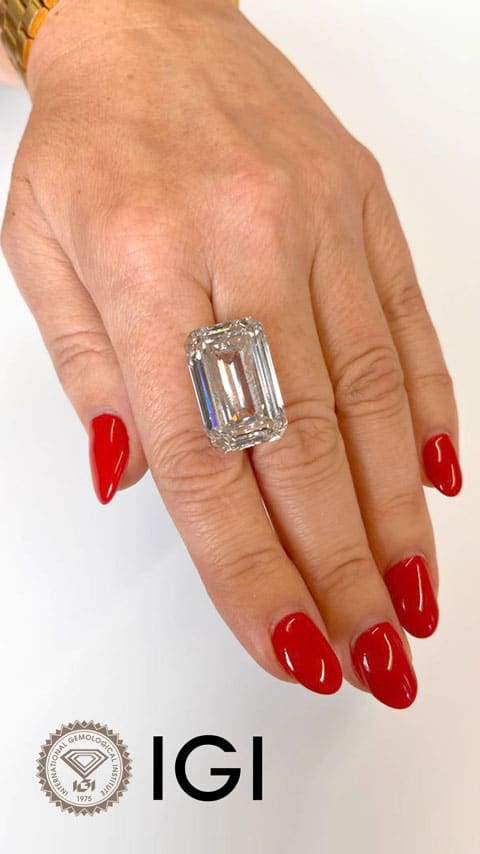 Continued Confidence and Growth
Avi Levy, President of IGI North America, complimented the sophistication and quality of Maitri's achievement, and noted how important analysis and disclosure are in today's industry.
IGI is proud to certify new benchmarks like this exceptional lab grown diamond from Maitri. The increasing sophistication and quality of achievements we're seeing from the top producers are remarkable. These breakthroughs also underscore how vital screening, grading and disclosure are, in the interest of continued confidence and growth for our industry.
Visit IGI @ JCK
Those attending JCK Las Vegas this week are invited to join IGI will be providing onsite diamond screening and grading services at JCK Las Vegas, booth #8055. Attendees are invited to join IGI for two JCK Talks sessions: "Lab Grown Diamond 101 (and beyond)" on Thursday, June 1 from 5:00-5:45 pm in room 101, Expo Level I, and "Lab Grown Diamond Updates" on Saturday, June 3, from 10:00-10:45 am, Expo Level II Showcase Stage. JCK participants may also attend IGI happy hour at 4:00pm daily, design lounge booth #12037, to learn the latest developments in the diamond, jewelry, and gemstone industry.