The three largest diamonds ever found on planet Earth came under the control of three notable icons.
So where did these diamonds come from? When did the luxury brands and royals take possession? How much did they pay?
And who has the largest diamond EVER?
Let's count them down…
In Third Place
With a score of 1,111 carats:
Unearthed in late 2015 at the Karowe mine in Botswana, the diamond named Lesedi La Rona ("Our Light") measured a stunning 66.40 x 55.00 x 42.00 mm.
After cleaning, Lesedi La Rona was purchased at a weight of 1,109 carats by Laurence Graff in 2017 for 53 million USD. It was fashioned into 67 separate polished diamonds, including a gigantic 302.37 carat emerald shape, which remains the world's largest square emerald-cut diamond. The 66 other diamonds polished from pieces of the Lesedi La Rona range from 26 carats down to one carat.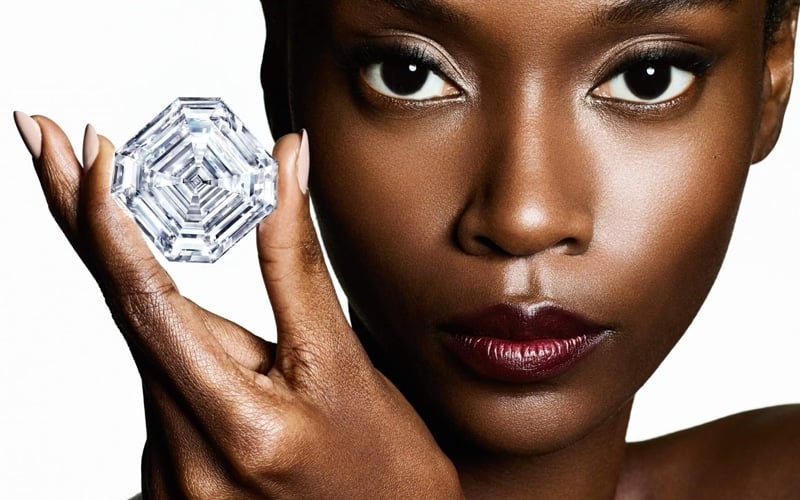 In Second Place
With a score of 1,758 carats:
When the second largest rough diamond in history surfaced in April of 2019 Graff's heavyweight score was bumped from second to third.
Also discovered at the Karowe Mine in Botswana, this dark, mysterious stranger is named Sewelô ("Rare Find"). It measures 83.00 x 62.00 x 46.00 mm, which is approximately the size of a tennis ball. In keeping with its aura of mystery, the diamond seemed to disappear from the news cycle shortly after making headlines. Then, in January 2020, the world was taken by surprise when French luxury brand Louis Vuitton announced their purchase of Sewelô for an undisclosed sum. It will be planned, cut and polished in Antwerp, Belgium, and turned into a Louis Vuitton jewelry collection.
Not coincidentally, Bernard Arnault's luxury conglomerate LVMH, parent company of Louis Vuitton, purchased Tiffany last November at a cost of 16.2 billion USD.
As New York Times columnist Vanessa Friedman succinctly noted –
LVMH is out not just to compete, but to utterly dominate the high jewelry market. Taken together, the double punch of purchasing (brand and stone) in less than two months is the luxury equivalent of shock and awe.
Ebony and Ivory
While they are geographical cousins, Sewelô and Lesedi La Rona are completely different in external appearance. Lesedi was white and transparent, with obvious gem-quality attributes, whereas Sewelô is gray-black and could possibly even be overlooked as a diamond.
Of course, most people consider top gem-quality rough to always present as colorless and transparent.
But there are rough diamonds like Sewelô, with dark, gray, even black exteriors. These diamonds may hide a beautiful secret.
In fact, recent analysis has confirmed that Sewelô is indeed of gem-quality, containing high quality diamonds within, in the same way you can see the high-clarity, high-color, transparent diamond material present after sawing in this IGI example.
And in First Place
With a score of 3,106.75 carats:
The largest gem-quality diamond ever discovered remains the 3,106.75 carat Cullinan, unearthed in South Africa in 1905. Measuring approximately 50.00 x 50.00 x 100.00 mm, this tremendous find was sold to the then-colonial government of the province for 150,000 British Pounds.
A tale of Kings and Queens
Named for the chairman of the Premier mine, the Cullinan was subsequently gifted to King Edward VII by the Transvaal government to demonstrate loyalty to His Royal Majesty and the British royal family. In a circular honor, on its 100th anniversary in 2003, the Premier mine was renamed The Cullinan Diamond mine.
In 1907 the Asscher family planned and fashioned the Cullinan into 105 smaller diamonds. Nine of these have the most prominence, and remain in the Crown Jewels of the United Kingdom. The 530 carat Cullinan I, known as the Great Star of Africa, is mounted in the Sovereign's Sceptre and remains the largest clear cut-diamond in the world.
From Queen Mary to The Queen Mother to HRM Queen Elizabeth II today, diamonds from the Cullinan have adorned members of the Royal Family for over 100 years. The Cullinan I and II were frequently worn together by Queen Mary. In similar fashion, Queen Elizabeth II regularly appears wearing the Cullinan III and IV, combined to form a breathtaking brooch.
One of the most popular crown jewels, the Cullinan V is an 18.8 carat heart-shaped diamond, originally worn by Queen Mary and regularly worn by her granddaughter today. It was among the eye-candy featured in our 2020 Valentine's Day post about historic heart-shapes.

The undisputed champion
The two crystals acquired by Graff and Vuitton in recent years are spectacular. We cannot wait to see what Louis Vuitton will produce with the incredible Sewelô diamond. And yet, our undisputed champion remains the 3,106.75 carat Cullinan, owned and worn by the British Royal Family for over 100 years.
Personally, I find it quite poetic that the King of Diamonds keeps company with the Queen of England.
Long live the King. Long live the Queen.