A Ruser ring with a 21.15 carat sapphire and diamond side stones set in platinum surpassed its pre-sale estimate by four times, commanding $127,500 when the gavel fell at Bonham's California Jewels auction in Los Angeles.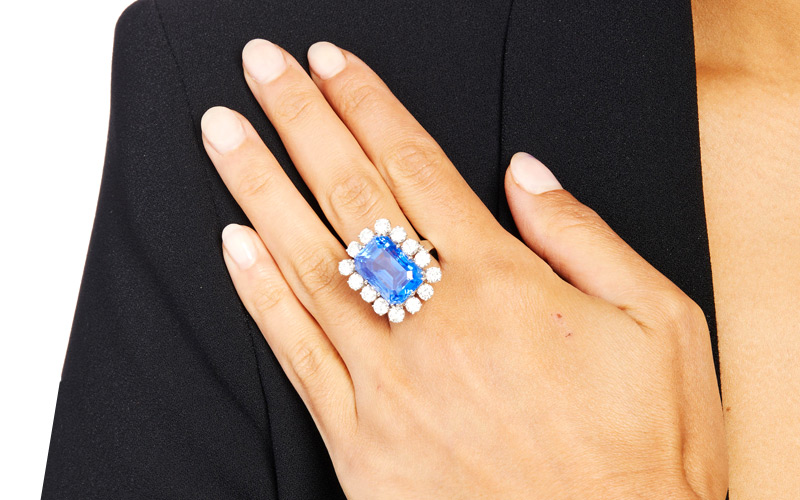 The central Sapphire measures 17.2 x 11.59 x 10.61 mm and has medium light to medium tone with slight color zoning. Its origin is reported as Sri Lanka, sold as mined with no indications of heat treatments.
It was fashioned as an octagonal step-cut, surrounded by round diamonds of high quality weighing approximately 3.00 carats with additional diamonds along the shank, which is signed Ruser.
A platinum ruby, and diamond ring also sold for seven times more than expected, garnering $47,360. With a central stone weighing approximately 1.60 carats, measuring 7.39 x 6.85 x 3.99 mm stated as Myanmar/Burma origin with no indications of heat treatments.
A Ruby Too
The ruby is surrounded by 16 baguette, pear, and single cut diamonds of high quality, totaling approximately 1.70 carats total weight. The ring is signed J.E.C. & CO (J.E. Caldwell & Company) and is estimated to have been made around 1920.
Diamonds Are Forever
Not to be outdone, another J.E. Caldwell piece featuring a 4.26 carat fancy intense yellow diamond commanded more than three times its pre-sale estimate, bringing in $108,350.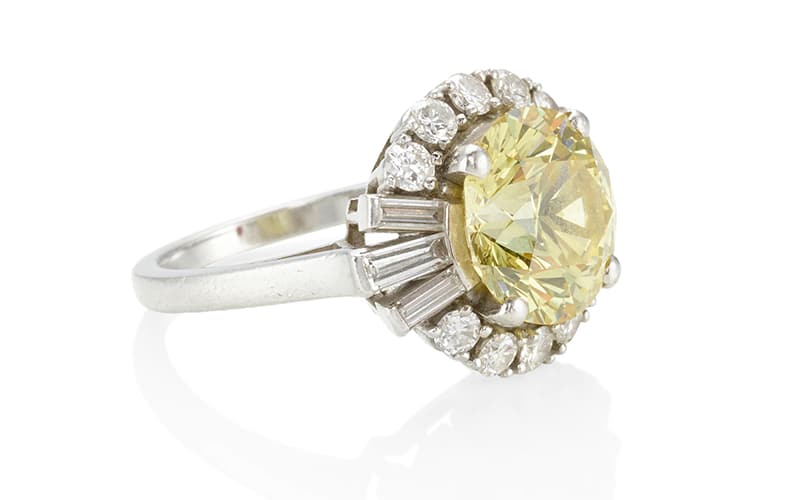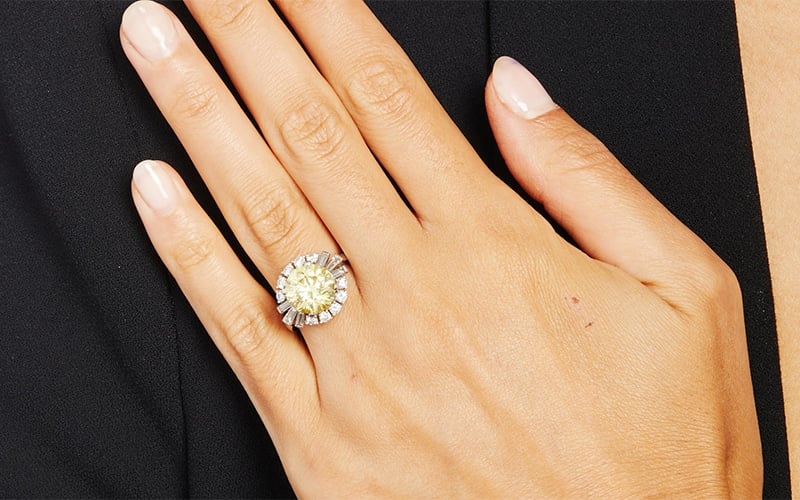 With color described as Fancy Intense Yellow and a clarity grade of VS1, the 4.26 carat center stone is harmoniously surrounded by 4.26 carats of high-quality white accent diamonds. Circa 1940, the ring is signed J.E.C. & CO., serial no. T1431, size 6.